Welcome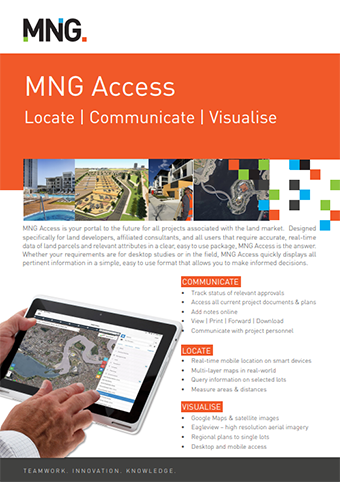 MNG Access is your portal to the future for all projects associated with the land market. Designed specifically for land developers, affiliated consultants, and all users that require accurate, real-time data of land parcels and relevant attributes in a clear, easy to use package, MNG Access is the answer.
Whether your requirements are for desktop studies or in the field, MNG Access quickly displays all pertinent information in a simple, easy to use format that allows you to make informed decisions.
For more information, click here to download a printable PDF Flyer for MNG Access.
Click here to view our Frequently Asked Questions.
Features
COMMUNICATE
Track status of relevant approvals
Access all current project documents & plans
Add notes online
View | Print | Forward | Download
Communicate with project personnel
LOCATE
Real-time mobile location on smart devices
Multi-layer maps in real-world
Query information on selected lots
Measure areas & distances
VISUALISE
Google Maps & satellite images
MetroMap - high resolution aerial imagery
Regional plans to single lots
Desktop and mobile access